Kay's Secondhand Books and Sheet Music
Australia
Second Hand Sheet Music and Used Books for sale
Home - Search - Testimonials - Policies - Contact Us - Checkout
Music Catalogues - Book Catalogues
Used and Out of Print Books on Government, Politics & Political History



Listed alphabetically by title.
A Prisoner in The Garden Opening Nelson Mandela's Prison Archive. ISBN 0670029491. Used hardcover book in dust jacket. 209 pages. (Published on behalf of the Nelson Mandela Foundation by Viking/Penguin Group. Melbourne. 2005) A little wear to the edges and corners of the boards. Else in fine condition.
Product Id: PL21936
Price: AU$20.00
Shipping information for this item
Add to Cart

Down With The Crown British Anti-Monarchism and Debates About Royalty Since 1790 -by- Antony Taylor. ISBN 1861890494. Monarchy Public Opinion. British Republicanism. This book examines the tradition of British anti-monarchism and current British republicanism, beginning with the reign of George III and ending with the death of Diana, Princess of Wales. 80 illustrations. 296 pages. (Reaktion Books Ltd. London. 1999) NEW book. Hardcover book in dust jacket. NEW.
Product Id: RF18465
Price: AU$30.00
Shipping information for this item
Add to Cart
John Bull Gets Tough: An Essay In Interpretation -by- S F Ferguson. The collapse of Great Britain and the Empire has been loudly prophesied for centuries, but John Bull refuses to budge; the end of every fight finds him still on his feet, with his family beside him; the author, an Australian, explodes the myth of grasping Imperialism, and makes clear the sane and solid foundations of the British Commonwealth; he explains the differences between John Bull and Uncle Sam, and their essential and indestructible brotherhood; he exposes the absurdity of the notion that a friend of Russia should be an enemy of Britain; above all, he tells us the deathless story of how Britain won through against incredible odds in the early years of WWII. (Angus & Robertson, Sydney, 1944) Small softcover book in soiled dust jacket, 72 pages. dust jacket and covers worn on edges and bumped in corners, bookshop stamps inside cover, foxing on eps and edges of pages, else very good.
Product Id: PL11295
Price: AU$20.00
Shipping information for this item
Add to Cart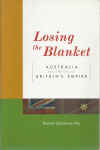 Losing The Blanket: Australia and The End of Britain's Empire -by- David Goldsworthy. ISBN 0522850286. Australian History. Australian Political History. When Britain's sprawling empire wound down with unexpected speed in the 1960s, Australia lost a comforting "security blanket" and had to struggle to re-establish and protect itself in a volatile and threatening world. This book shows how Australia's foreign policy during the 1950s and 1960s was affected by the end of empire. Documents now available reveal the effects of post-imperialism upon Australian policies in key areas such as defence planning in Southeast Asia, the politics of the Commonwealth, the European Union, Australia's own colonial policy and relations with Britain itself; as Menzies and then Holt looked to protect Australia's interests, the groundwork was laid for Australia's involvement in Vietnam and for the pattern of Australia's foreign relations today. Used softcover book. 209 pages. (Melbourne University Press. Melbourne. 2002) In fine condition.
Product Id: PL20889
Price: AU$15.00
Shipping information for this item
Add to Cart
Mandela The Authorised Portrait -edited by- Kate Parkin. ISBN 1741248930. NEW. Biography and photographic portrait of South African leader Nelson Mandela. Editorial consultants: Mac Maharaj & Ahmed Kathrada. Narrative -by- Mike Nicol. Interviews -by- Tim Cousens; Rosalind Coward & Amina Frense. Foreword -by- Kofi Annan. Introduction -by- Archbishop Desmond Tutu. (The Five Mile Press, Melbourne -in association with- PQ Blackwell, Auckland, 2006) NEW large format hardcover book in dust jacket. 356 pages. NEW. Weighs 2.2 kilograms.
Product Id: PL14753
Price: AU$40.00
Shipping information for this item
Add to Cart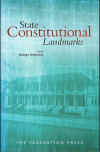 State Constitutional Landmarks -editor- George Winterton. ISBN 9781872876071. Foreword -by- The Hon James Spigelman AC. Australian State Politics. Fifteen landmark cases and controversies of parliamentary government in the Australian colonies and legal drama written by some of Australia's leading constitutional scholars. Introduction: Australian States: Cinderellas No Longer? (George Winterton); Justice Boothby: A Disaster That Happened (John M Williams); Plenary Within Limits: Powell v Apollo Candle (Kevin Booker); Thomas McCawley v The King (Nicholas Aroney); Trethowan's Case (Jeffrey Goldsworthy); The Dismissal of the Lang Government (Anne Twomey); Clayton v Heffron (Anne Twomey); Deadlocks in State Parliaments (John Waugh); Tonkin v Brand: Triumph for the Rule of Law (Peter Johnston); Armstrong v Budd and the Power of Expulsion (Gareth Griffith); The Making of the Australia Acts 1986 (Anne Twomey); Egan v Willis and Egan v Chadwick: The Triumph of Responsible Government (Gerard Carney); Arena v Nader and the Waiver of Parliamentary Privilege (Gareth Griffith and David Clune); BLF v Minister for Industrial Relations: The Limits of State Legislative and Judicial Power (Fiona Wheeler); The Kable Case: A Guard-Dog that Barked But Once? (H P Lee); McGinty v Western Australia: Electoral Equality and the Demise of the 'Implied Rights Venture' (Peter A Gerangelos). Used hardcover book in dust jacket. 458 pages. (The Federation Press. Annandale. 2006) Light wear to edges of dust jacket. Else in fine condition. Weight 1.1 kilograms.
Product Id: PL22385
Price: AU$135.00
Shipping information for this item
Add to Cart
The Australian Ballot The Story Of An American Reform -by- L E Fredman. American Politics. American Electoral Reform. By the late 1800s, American elections were riddled with abuses: political parties provided identifiable printed ballots which were issued to voters outside the polling place, candidates has to pay large sums to ensure that their names would actually appear on the ballot, and voters were freely bribed or intimidated by agents of the political parties; various groups of American political reformers advocated the introduction of the Australian Victorian method of voting in which the government printed and distributed the ballets, accepted nominations and made elaborate provision for secrecy in voting. (Michigan State University Press. First edition. 1968) Used hardcover book in dust jacket, 150 pages, ex-library with the usual marks and stamps, pocket on fep, covered in clear plastic sleeve, dust jacket under sleeve is soiled, foxing on edges of pages, else good.
Product Id: PL10737
Price: AU$35.00
Shipping information for this item
Add to Cart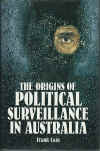 The Origins of Political Surveillance in Australia -by- Frank Cain. ISBN 020714818X. A study of the growth of Australia's security and surveillance organisations and the early history of those organisations, based upon detailed examination of the original files and archives. (Angus & Robertson Publishers. London. 1983) Used hardcover book in dust jacket. 305 pages. Dust jacket is worn on corners and at both ends of the spine. Foxing on edges of pages. Else very good.
Product Id: PL18810
Price: AU$15.00
Shipping information for this item
Add to Cart



© Kay's Secondhand Books and Sheet Music. 2018.