Kay's Secondhand Books and Sheet Music
Australia
Second Hand Sheet Music and Used Books for Sale
Home - Search - Testimonials - Policies - Contact Us - Checkout
Music Catalogues - Book Catalogues
Used and Out of Print Australian Literature and Collectible Fiction Books


Listed alphabetically by title.
Arthur's Dream The Religious Imagination in The Fiction of Patrick White -by- Michael Green. ISBN 0646267817. Used softcover book. 268 pages. In fine condition. Weight 425 grams. _
Product Id: ALIT22027
Price: AU$25.00
Shipping information for this item
Add to Cart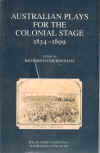 Australian Plays For The Colonial Stage 1834-1899 -edited by- Richard Fotheringham (The Academy Editions of Australian Literature). ISBN 0702234885. The scripts of nine colonial plays, one of them in two versions. Plays are: 'The Bushrangers' (Henry Melville); 'The Kelly Gang' (Henry Melville); 'Life in Sydney' (1843) (a scurrilous satire); 'Arabin, or The Adventures of a Settler' (1849) (a pioneering romance); The South-Sea Sisters (1866) (a short choral masque; a proto-nationalistic pantomime in Melbourne and Sydney versions 'The House That Jack Built' (1869 and 1871); a city murder-mystery 'Hazard' (1872); a comic-horror saga of a bush heroine 'For £60,000' (1874) and the first Australian stage classic, adapted in 1886 from Marcus Clarke's novel 'For The Term of His Natural Life'. Explanatory notes and introductions. Over 50 illustrations. (University of Queensland Press. Brisbane. 2006) NEW book. Softcover book. 800 pages. Still sealed in plastic. Plastic seal is torn in front. No marks on the book cover. NEW. Weighs 1.3 kilograms. _
Product Id: ALIT18296
Price: AU$60.00
Shipping information for this item
Add to Cart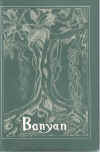 Banyan A Selection of Poems -by- Edwin Wilson with pencil drawings by Elizabeth McAlpine. Limited Numbered Edition No.31 of 1000 Copies. Signed Copy. ISBN 0949557013. Written inscription signed by Edwin Wilson and dated 9-10-82 on the dedication page. The poems were initially inspired by the beautiful countryside and rainforests around Murwillumbah on the Far North Coast of New South Wales; they explore love and death, man and nature, truth and knowledge etc with recurring botanical imagery. Illustrated with black and white pencil drawings. Used hardcover book in dust jacket. 99 pages. (Woodbine Press. 1982) Dust jacket and edges of boards are a little worn on edges and corners. Front free endpaper is worn on lower inner edge. Else in fine condition. Weight 400 grams. _
Product Id: ALIT25259
Price: AU$25.00
Shipping information for this item
Add to Cart
Captain Cub -by- Ethel Turner. Fiction. Australian author. Used hardcover book. No dust jacket. 255 pages. Colour portrait of a young girl reading a book tipped in on front cover. Illustrated with black and white frontispiece and plates throughout the book. (Ward, Lock & Co. London. Undated but circa 1900) A few grubby spots on lower edge of embossed front cover. Light wear to rear cover. Foxing mostly confined to edges of pages. Bookshop bookplate on front free endpaper page. Else very good condition. Weight 500 grams. _
Product Id: ALIT23832
Price: AU$35.00
Shipping information for this item
Add to Cart
The Fairy Who Wouldn't Fly (The Fairy Who Would Not Fly) -told and pictured by- Pixie O'Harris. Vintage Australian childrens' story book written and illustrated by Pixie O'Harris. Charming colour and black and white illustrations. (Marchant & Co. Sydney. First edition. Circa 1945) Used hardcover book. No dust jacket. Unpaginated. Covers are soiled, and worn heavily on edges. Name written on cover. Hinge at front endpaper has been taped. Name and address, a number and a birthday inscription also written on the grubby first page. Spots and small stains on the first few pages. Some foxing on pages. Else pages are very good. The illustrations are unmarked. Rare in the first edition. _
Product Id: ALIT12957
Price: AU$40.00
Shipping information for this item
Add to Cart



© Kay's Secondhand Books and Sheet Music. 2018.