Kay's Secondhand Books and Sheet Music
Australia
Second Hand Sheet Music and Used Books for sale
Home - Search - Testimonials - Policies - Contact Us - Checkout
Music Catalogues - Book Catalogues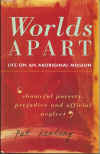 WORLDS APART LIFE ON AN ABORIGINAL MISSION -by- PAT KEATING. ISBN 0868065161. SIGNED COPY.
Australian Indigenous Peoples. Aboriginal Missions. Aboriginal Resettlement. Australian History. The author's account of the shabby conditions, shameful poverty-prejudice and official neglect on an Australian Aboriginal mission in the 1960s. Gift inscription to previous owner signed by the author on the half title page. (Hale & Iremonger. Sydney. 1994 ) ISBN 0868065161. Used softcover book in a dust jacket. 160 pages. Dust jacket is worn on edges and both ends of spine. Inked stamp of previous owner on half title page. Light foxing on first page and on edges of pages. Else very good. Scarce.
Product Id: AH18335
Price: AU$30.00
Shipping information for this item
Add to Cart
Click here for more used and out of print books on Indigenous Peoples.

© Kay's Secondhand Books and Sheet Music. 2018.